Jenni Stuart-Anderson
Hand Made Tools
The Art of Recycling
Rag Rug Kits, Books, Tools and Equipment
© 2002-2014 Jenni Stuart-Anderson Notice: All images and materials on this site are protected by copyright law and may not be reproduced in whole or in part without the express written permission of Jenni Stuart-Anderson. Site created by Helen Smith
A. Wooden cutting gauge
B. Hooks - yew and brass or tulip wood and steel
C. Speed shuttle hook, hardwood with brass and steel
D. 'Bodger' - spring clip tool for progging

A pine frame with webbing attached and bolts is also available.
Equipment prices from £4 to £52 plus postage & packing - email for details
Commissions
Jenni welcomes commissions for recycled textile projects including rugs and wall hangings. Prices start from £50 per square foot. Please email for more details.
Hooked Rag Rug "Terrier"
This kit contains hook, frame, backing with design and instructions for a rug 59 x 43cm from your own fabrics - all in a hessian bag
Progged rag rug
Carrier bag contains hessian marked with geometric design, tool and instructions to make a rug 60x41cm from own fabric.
Traditional design rag rug kit 75 x 50cms
Progged seat pad
Carrier bag contains backing with design for 39cm dia. spiral from your own fabric, tool, backing template and instructions
SPECIAL OFFER
Book and DVD for £24.95 plus £2.50 UK p&p - email Jenni for details
Mixed progged textiles 90x50cms.
Jenni's new book is now available. Get a signed copy for £14.95 + £2.50 p&p. To order using Paypal or cheque, email Jenni.
More Rag Rugs is now available as a bookazine at only £7.00 UK p&p £2.50.
Books and DVDs
Jenni's new Workshop DVD is now available for £12.95 plus £1 p&p - email Jenni.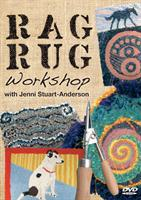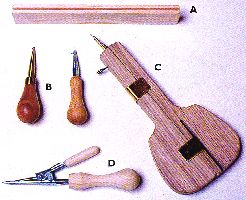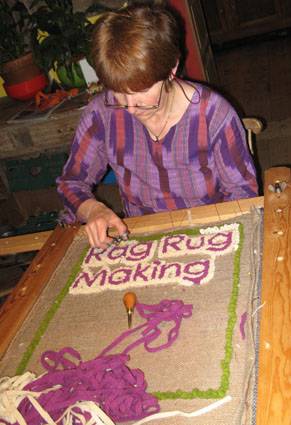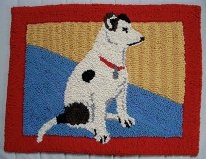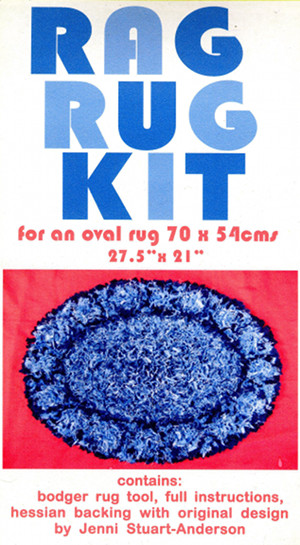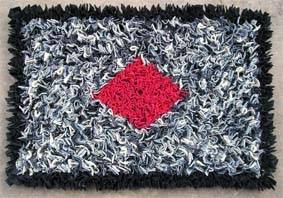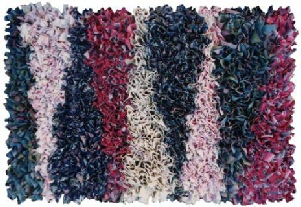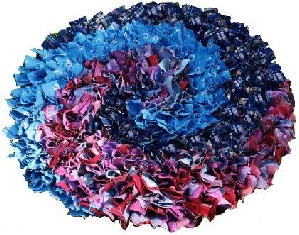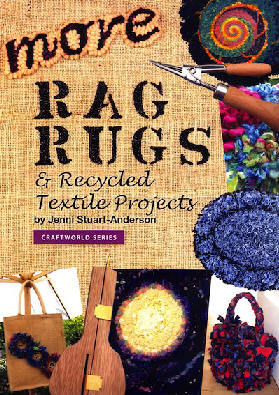 Jenni's first Book RAG RUG MAKING
The history of the craft and contemporary projects are explained with step-by-step diagrams. Many illustrations of vintage and modern rugs.
Available from the author at £12.95 plus postage or booksellers (Traplet Publications Ltd. UK 2003 & 2007. ISBN 978-1-900371-53-7)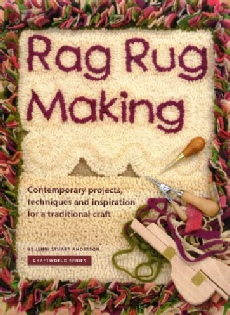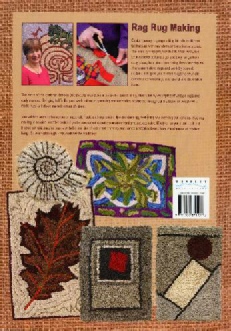 NEW KIT
Hook and Prog a flower motif on an eco bag 40x34x13cm. Hessian bag contains hook, bodger, materials and instructions. £35 plus £2.70 p&p.